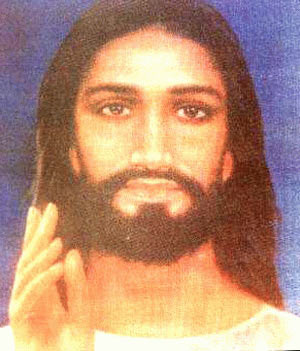 Prema Sai Baba
Shirdi Sai Baba and Sathya Sai Baba are part of a triple incarnation, a Sai trinity. Eight years after Sathya Sai Baba passes away, Prema Sai Baba will be born to finalise the supreme mission for which the Sai avatars have come down for, to lay the platform and take mankind and India to a golden period in this Kali Yuga of where there is peace, tranquillity and spirituality.
Sathya Sai Baba says that Prema Sai Baba will be an incarnation of Parvati, the consort of Lord Shiva. He will be born in the state of Karnataka, formerly known as Mysore, in a village called Gunaparthi in the Mandya district. The incarnation will be male and look incredibly like Jesus Christ, which to some may look like a second coming of Christ.
Professor N. Kasturi an ardent devotee of Sathya Sai Baba, who passed away in 1987, is said to have reincarnated to be Prema Sai Baba's mother, she is alive now and has been identified in Karnataka. When Sathya Sai Baba passes away, he says that another devotee, Swami Nalin, would head the organisation until Prema Sai Baba was old enough to resume his role and divine mission. Prema Sai Baba will have a wife and a son in his lifetime and the last half of the 21st century will be the greatest period in this era.
On the right is a photo of Prema Sai Baba that Sathya Sai Baba materialised.